Customize Your Deal Online in Just 4 Easy Steps
1. Choose Your Vehicle
2. Personalize Payments
3. Value Your Trade
4. Apply For Financing
Enjoy the Car Buying Process from the Comfort of Your Own Home
Over the past several years, many people have become a lot more comfortable with the online shopping process. What's not to love? Buying online is fast, easy, and puts you in the driver's seat when it comes to the time you shop. When you choose Haron Volvo Cars Fresno, located at 2222 Ventura Street in Fresno, CA, you can shop for your next vehicle online with our easy Customize Your Deal tools. All it takes is a few easy steps to buy or lease your next car from your dinner table.
1. Choose Your Vehicle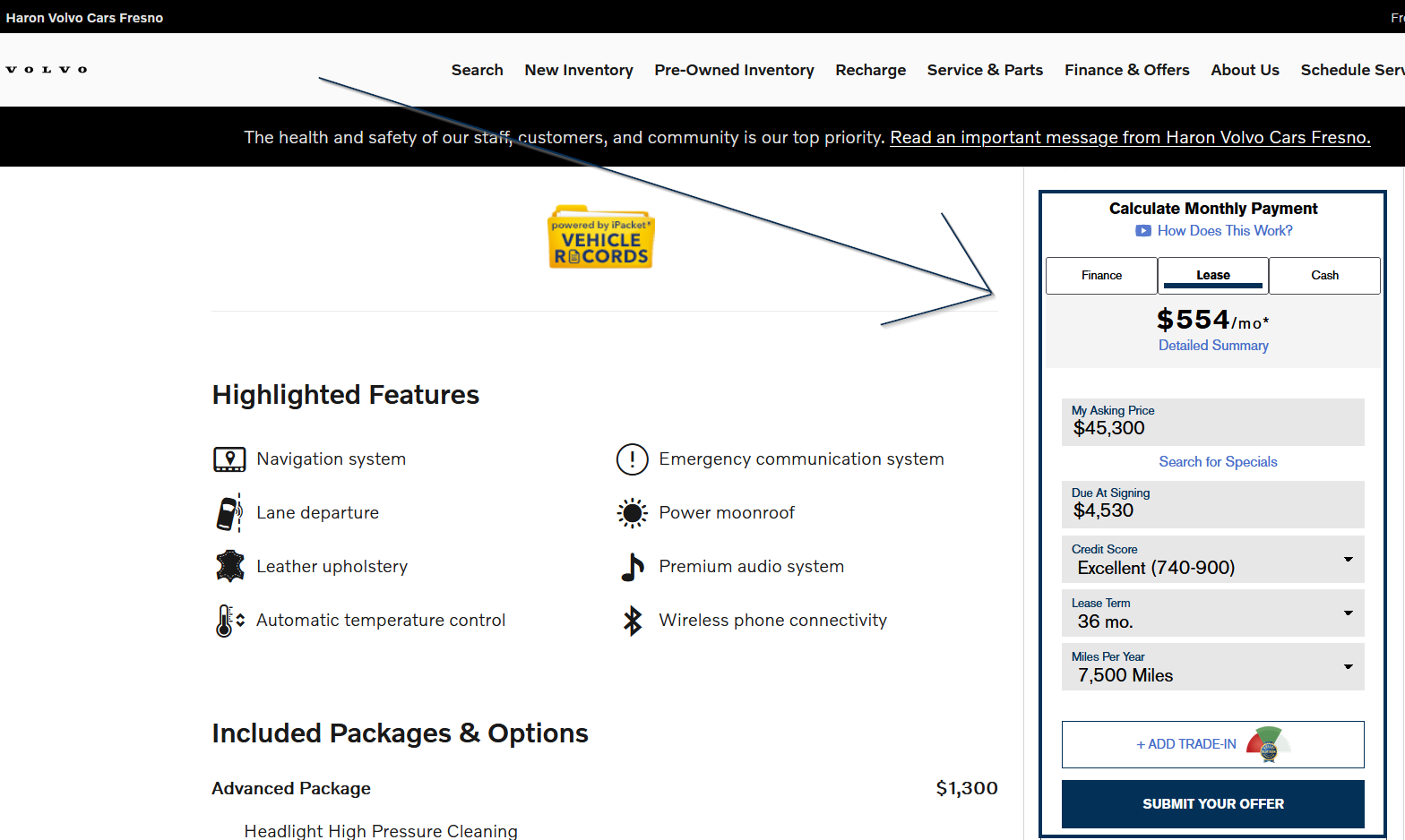 Choose a New Vehicle
People who want to shop from home can research and select their new vehicle with our Customize Your Deal tools. You can peruse our new Volvo selection, or choose something from our used inventory, in an easy, streamlined fashion. Our sales consultants are always available by phone, text, chat, or email if you have any questions.
2. Personalize your payment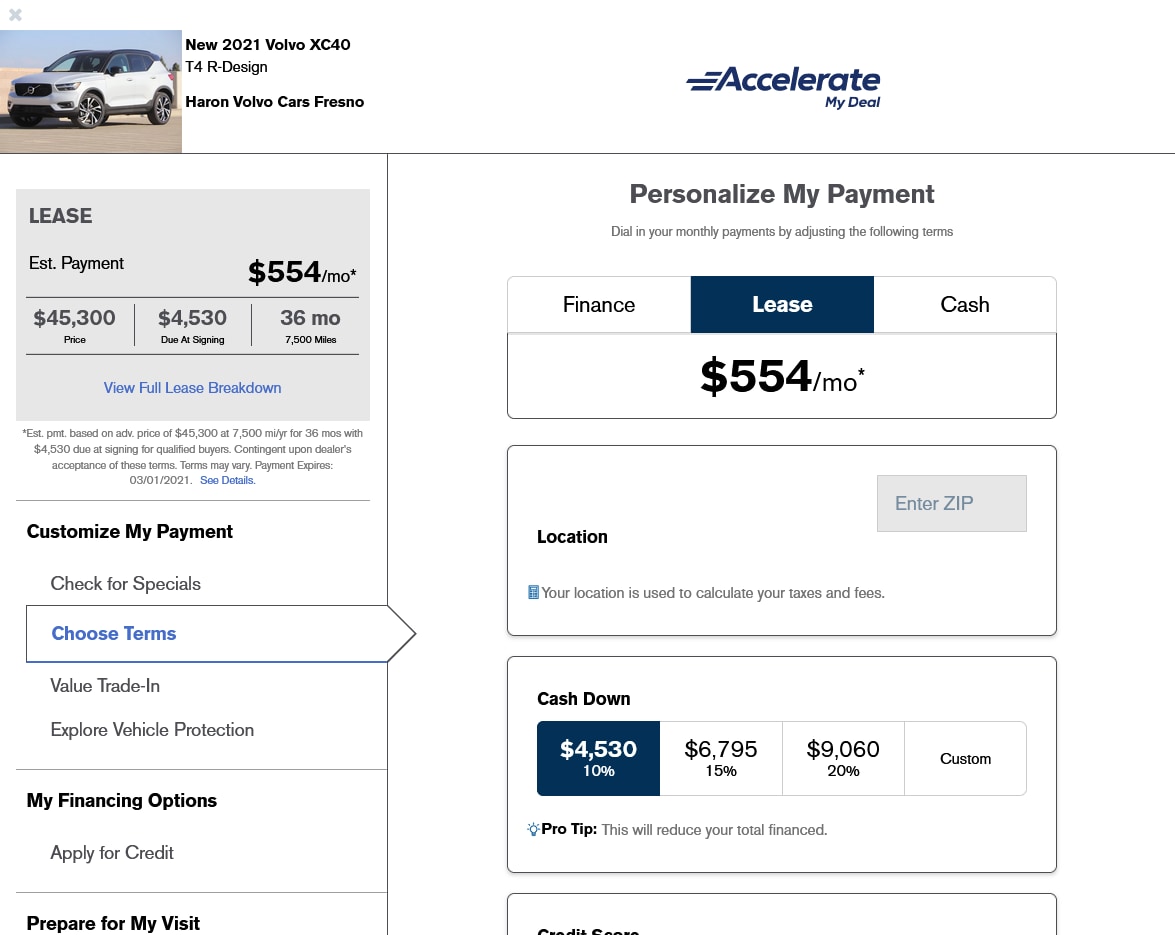 Personalize Your Payment
The Customize Your Deal tools allow you to review your payment options from the comfort of your own couch. Whether you are interested in buying with cash, financing, or leasing, you will be able to browse the different choices and personalize a monthly payment that fits comfortably into your financial wheelhouse.
3. Value your Trade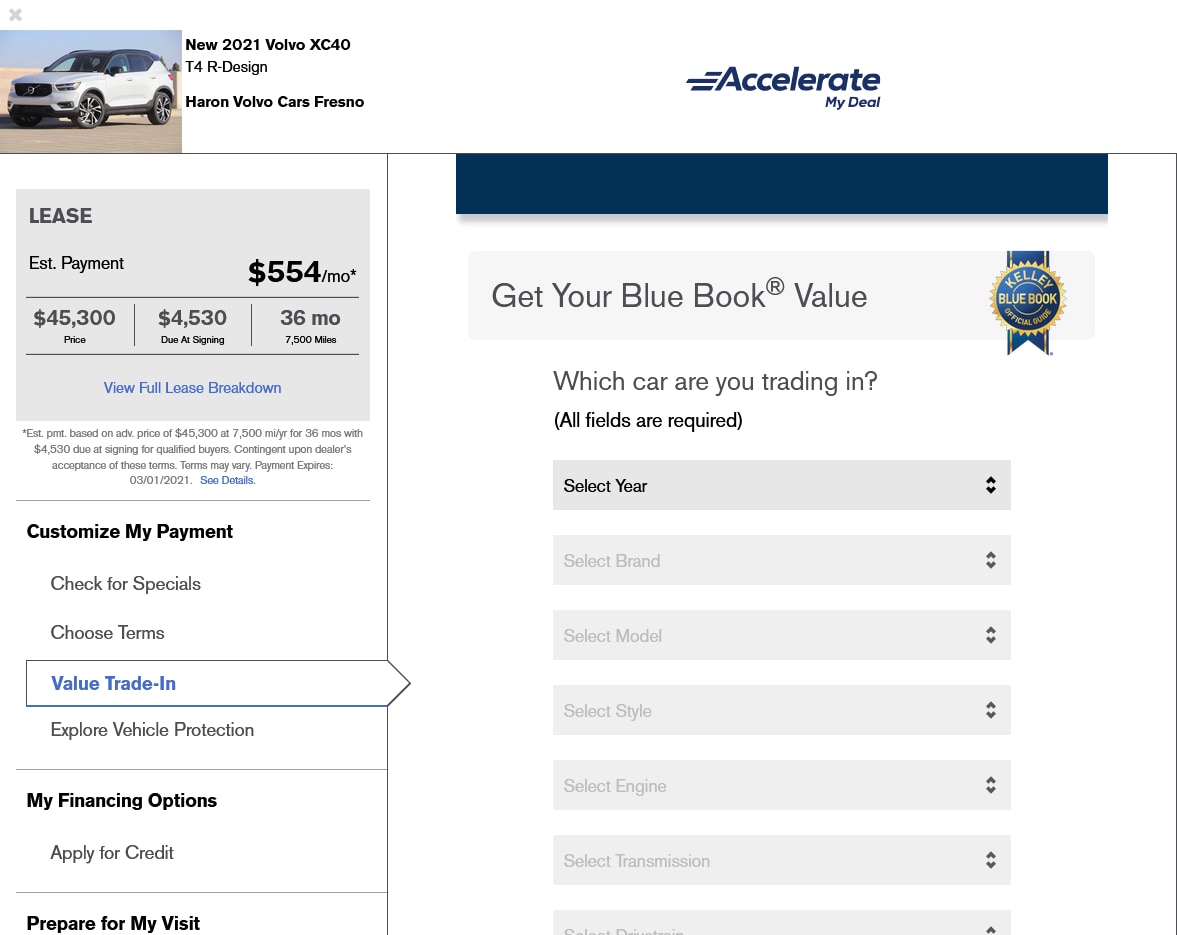 Value Your Trade
If you have a car, truck, or SUV you want to trade toward your new vehicle, you will be able to get all of the information about it to us online. By using the trad evaluator in our Customize Your Deal suite of tools, you can get the market value of your vehicle in just a matter of minutes.
4. Apply for financing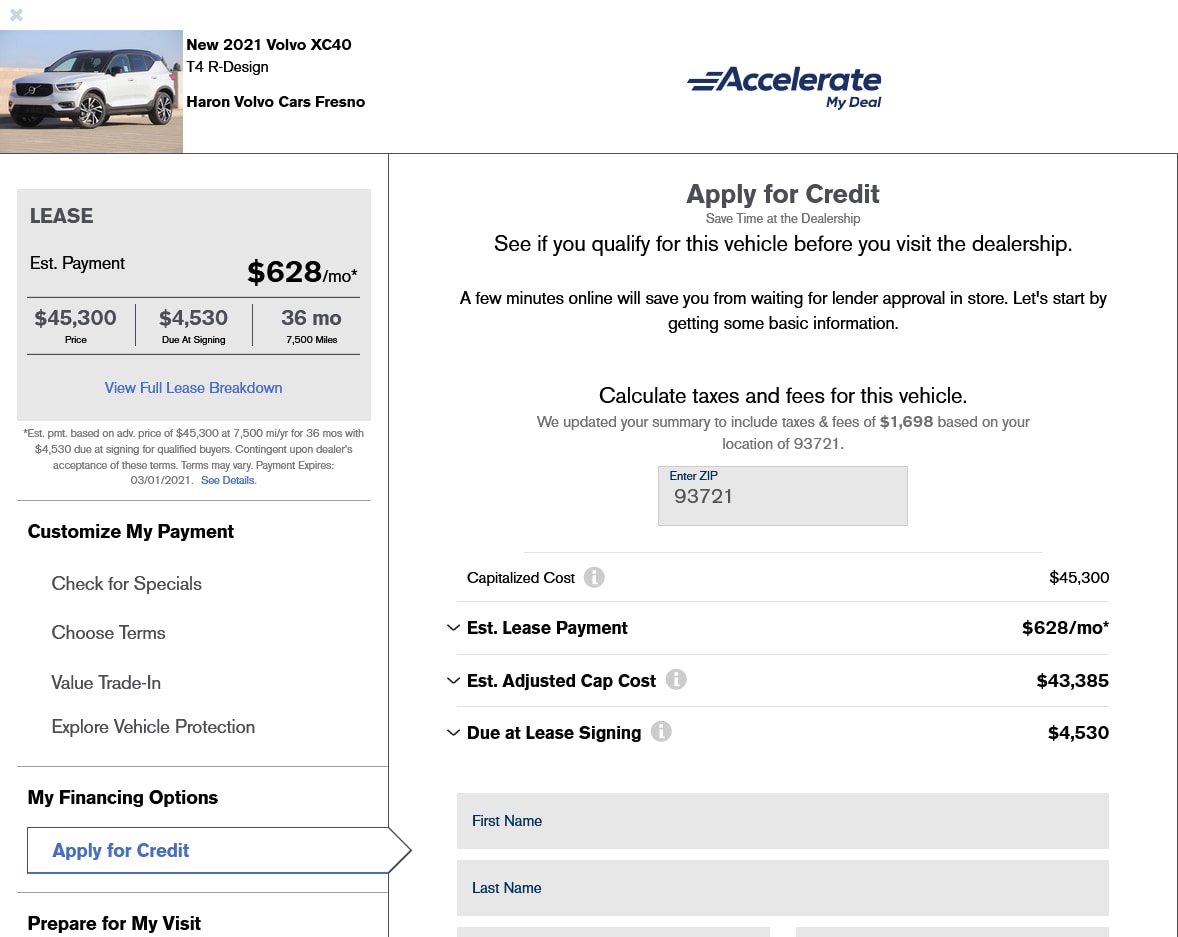 Apply for Financing
Are you applying for an auto loan? Do you think a Volvo lease would suit you better? You can apply for auto financing with the Customize Your Deal tools. When you send over your credit application, the finance center at Haron Volvo Cars Fresno will get started on trying to secure a financing solution that is right for your budget.
Make Car Shopping Easy by Buying Online
Haron Volvo Cars Fresno, in Fresno, CA, wants to make the car buying process as simple as possible. Use the Customize Your Deal suite of online shopping tools today, so you can experience how fast and easy you can get your next car deal done.
Hours
Monday

8:00 AM - 6:00 PM

Tuesday

8:00 AM - 6:00 PM

Wednesday

8:00 AM - 6:00 PM

Thursday

8:00 AM - 6:00 PM

Friday

8:00 AM - 6:00 PM

Saturday

9:00 AM - 6:00 PM

Sunday

10:00 AM - 6:00 PM