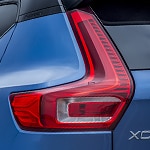 Getting into a Volvo XC40 R-Design for the first time is an indescribable experience. What immediately stands out are the sporty features. Once you get on the road, this compact performance SUV becomes even more impressive.
Access the cargo area of the Volvo XC40 R-Design using the Hands-Free Power Tailgate feature. This feature is likely to be used daily, especially on the weekends when shopping. Never again will you find yourself fumbling to get your belongings into your vehicle. Both function and form are optimized.
Have you ever ended up at the wrong location because of misguided directions provided by a navigation system? That's far less likely to happen with the Sensus Navigation feature in the XC40 R-Design. Accurate and reliable data is provided.