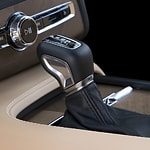 The new Volvo XC90 is a popular and high performing luxury SUV that gives you the power and easy handling on the road that you need. Discover what these performance features are and how they work to your advantage as the XC90's new owner.
One of its most impressive features is its built-in roadside assistance kit. If you experience minor repair issues on the road, you may be able to repair them on your own with this kit. It could save you from having to call for roadside assistance.
The new XC90 also comes with a built-in tire pressure monitoring system. It lets you know if your tires are going flat or in need of air. It shows how much air is in each tire and on what side of the SUV that the flat tire is located. It additionally comes with an off-road mitigation feature. You can drive it off paved roads with this feature.