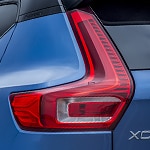 What makes a vehicle popular? It's usually because of performance and design. These are just a couple of reasons why the Volvo XC40 is such a highly-regarded luxury subcompact SUV. Below are a couple of exterior features that you'll appreciate.
Power Operated Tailgate

A power operated tailgate enables you to open the rear door of the XC40 with ease using a remote controlled key. You can also close it remotely. When approaching the XC40 with your hands full, you'll appreciate this feature.

Door Handle Illumination

?There are many elements of a vehicle that make it special. Door handle illumination is a feature that welcomes you to the XC40 when you're entering the vehicle. It's one of the features that makes the exterior attractive and functional.
Now is a great time for a test drive! We invite you to visit Haron Volvo Cars Fresno to learn more about the Volvo XC40.